Alps 2013, 6/13, Returning the bikes

The route back to Landshut started with a nice early morning run over Oberalp, which is a great way to start the day. After that it was secondary roads to Chur, then several hours of Autobahn cruising/blasting. The Crosstourer was pretty comfortable up to about 115mph in the (not nearly frequent enough) unrestricted sections. It was a lot of fun at the end of the slower kmh zones repeatedly opening the taps and warping up to speed.  My 620 Multistrada is not well suited to that kind of activity.

Returning the bikes was as easy as last time - Hermann does not go over them with a fine tooth comb. I mentioned the loose front end to him but didn't really get a response. Got all our posessions transferred back to our suitcases and Hermann got us a cab to the airport.


3,736km for the trip (plus about 50 before I remembered to set the odometer). That's 2,321 miles of Alpine goodness.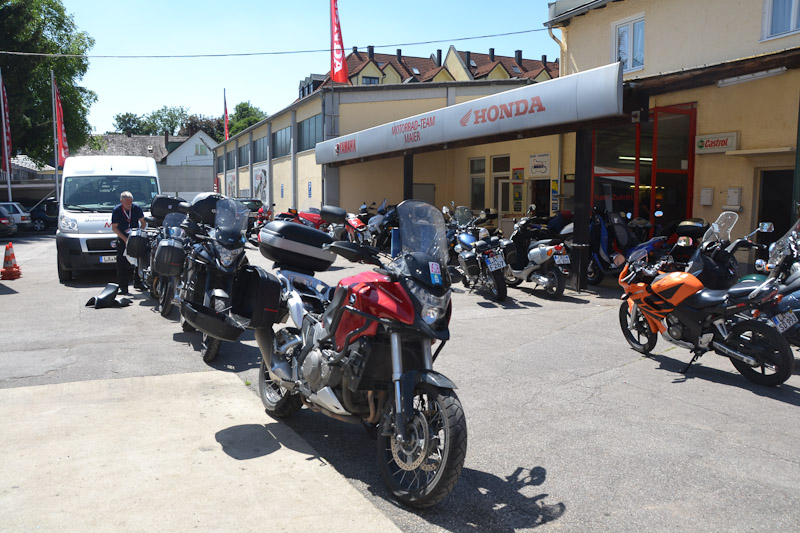 Lined up and ready for inspection
Emptying out
I wish he rented this XJR...
Lots of rental bikes
Dave and Peter undoing their Scala headsets


Peter was going home the next morning, but Dave and I would continue our vacation for a few more days. Here's a teaser:


Full report of the Gran Premi Aperol de Catalunya will be in a new thread