Alps 2013, 6/07, The Ride to Nice

I got up extra early so I could squeeze in a ride up to the ledge road again. It was pretty chilly and the road was foggy in places, but I still had a blast. There were a few other bikes out tearing it up as well. I was back in time for a late breakfast, again at the campground. Our table is outside on this warm perfect summer morning, and life is good. After breakfast all of us make one last blast up and back to the ledge.


N85 - again, I'm cheating with the pictures of this road. Some are from the day before, some are from today. I can't keep them straight.
iPhone pano of one of the great turns on the N85
The forest section was quite fun
Crosstourer
Looking back on the ledge section
Stopped on the road for a second to get a few pictures. Pretty much no traffic this early in the morning,
Dave
The Crosstourer
Peter
Looking down on a great section of the road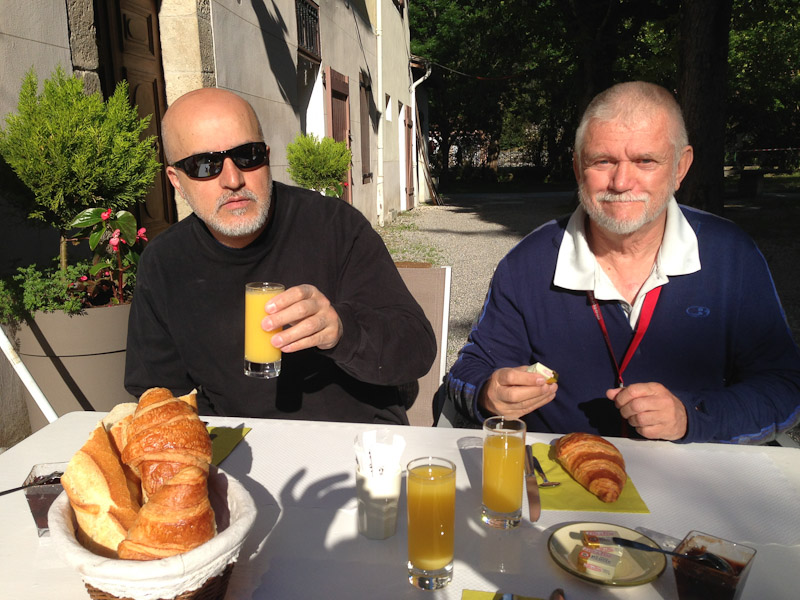 For some reason Peter strikes me as looking very Italian in this shot.


Peter had a great route planned to Nice but with some of the passes still closed he improvised another one. Basically we took N4085 to D6085 on our way to Grasse. The road was pretty in places, but nothing special. A couple sections we were high up on the hill and had huge views across valleys, but for the most part it was just a Point A to Point B ride.

On the outskirts of Grasse we encountered a big taffic jam as a car transport was trying to unload cars in the middle of the narrow main street through town. Once past that, the actual town of Grasse was worse. So many little roads going in every direction, had to doube-back when we got off-route for a while. I'm surprised we ever found our way out, the town was very busy and confusing. It was filled, however, with lots of pretty French girls in dresses.

We stopped for lunch and to stretch our legs a bit in the town of Tourrettes-sur-Loup. We barely managed to squeeze our 3 bikes into the only available space in the town square parking lot (having passed on the free visitor bus from a huge lot 1/2 mile away since we couldn't understand the signs). There was a cool medeival section of town to explore, all narrow winding streets on the side of a cliff. Some great ice cream and croissants constituted lunch if I recall.


Tourrettes-sur-Loup
View towards the Med. Hot and hazy.


As we got closer to Nice the roads got bigger and busier. Peter took a wrong turn at one of the circles and ended up on the road he specifically wanted to avoid - D6202, Route de Grenoble south to Nice.

The next few miles into Nice, and the ride through Nice to the hotel were pretty crazy. Scooter traffic everywhere, cars zooming into every gap, typical European city driving I guess. We tried our best to keep together but that wasn't always possible.

Here's an excerpt from Peter's notes on that section

- traffic is moving fast, need to speed up, a little scary, make sure Dave and Ken are still with me, don't lose them
- GPS wants to recalculate...sure...but tells me to make a u-turn...yeah, right!...that's not going to happen
- I continue and hope for the best, luckily I have a vague idea where I'm going because I remember some of the roads from Google street view 
)
- traffic becomes very crazy when we get off M6202, but still looks like we're heading in the right direction
- I can picture the hotel being not too far (behind that cluster of buildings), we just need to get onto the road that follows the beach and go east
- if we get totally lost we can pull over
- a little worried, really don't want to get lost, traffic is crazy, not sure if I'm heading in right direction, I can see the airport, that's good, need to go as far south toward airport, then left
- I hate this
- made it onto the main road along the beach (Promenade des Anglais), looks like we're going to be ok, the guys are still with me
- shit...crazy intersection...which lane should I be in, I'm lane splitting...need to get over to right lane, didn't look over my shoulder, almost get taken out by a car (I watched from behind - he was soooo close to getting slammed by the car it was terrifying - Ken)
- that was close, guy is pissed off (sorry), I think he gave me the finger, but not sure, or was it an Italian hand gesture?
- finally heading down the right road, hotel should be in sight soon
- shit...think I've lost the guys...pull over to wait
- here they come, need to pull out into traffic without getting crushed by traffic
- back on the way...there's the hotel, make a u-turn at that intersection...we've arrived...thank you Google street view!
- hotel porter gives me a look..."Monsieur, jue halve de de move le moto"...yeah, right...do you know what it's like out there?! I explain we're checking in

The Radisson Blu hotel was located directly on the Promenade des Anglais, the main road along the beach. I was able to use hotel points for both our rooms for 2 nights instead of each of us paying $300/per night. We got the bikes locked up in the underground garage, dumped our stuff in the rooms, and I headed up to the pool for a swim to cool off. What a magnificent hotel!

We decided to pass on the $20 hamburgers at the pool (but not the $10 beers) and go for a walk to look for dinner. Nothing really on the beach-side of the hotel, so we head away one street from the beach. What a difference one street makes - most of the shops are very run-down, trash in the streets, grafitti, etc. We find an Italian place still open and have a mediocre dinner before walking back along the beach to the hotel.


Rooftop pool overlooking the Mediterranean sea.  This doesn't suck.
The beaches of Nice are very rocky
High roller
One street off the beach things look very different
Citroen Traction Avant -Cool looking car
Nighttime on the Mediterranean