Alps 2013, 6/03, Italy to Briancon, France

Warm temperatures and sunny blue skies promised a great day of riding. Dave had plotted out an interesting route to France that would take us over a number of high passes once we got out of Italy. We started out following the shore of the lake, which was slow going but very pretty. Lots and lots of crazy scooter riders along the route. After the lake we got turned around a couple times going through small towns, and outside of Torino decided to hit the Autostrada (64/E70/A32) for a bit to make some time to France (and avoid going through Torino). This turned out to be an expensive option as I think we were hit up for about 16 Euro for various tolls on our way to Susa.

Stopped for a quick snack at a gas station - they actually had very decent croissants. It was getting pretty hot by this point so we shed some layers and hydrated. I was happy to have the Autostrada behind us, and excited that France lay just ahead.

We headed up SS25 which turned out to be quite a lot of fun - perfect pavement, good sightlines, only a couple other vehicles (quickly dispatched). The smooth pavement was keeping the Crosstourer calm, and since we were going uphill there was a lot less braking needed - which also helped not to upset the bike. The summit of Pas du Paradis was very pretty and very empty.


Nothing like a full-service bar at a gas station
France!
At the top of Pas du Paradis
Dave exploring
Peter


After Pas du Paradis we made our way to Col du Mont Cenis. This turned out to be a gorgeous ride, with really wide-open view for miles. There was a reservoir at the top of the pass but the water level looked very low. We made our first purchase of pass stickers (deciding pass pins were too expensive this time around) and generally were just enjoying the feeling of being on another Alps ride.


Crosstourer at the summit of Col du Mont Cenis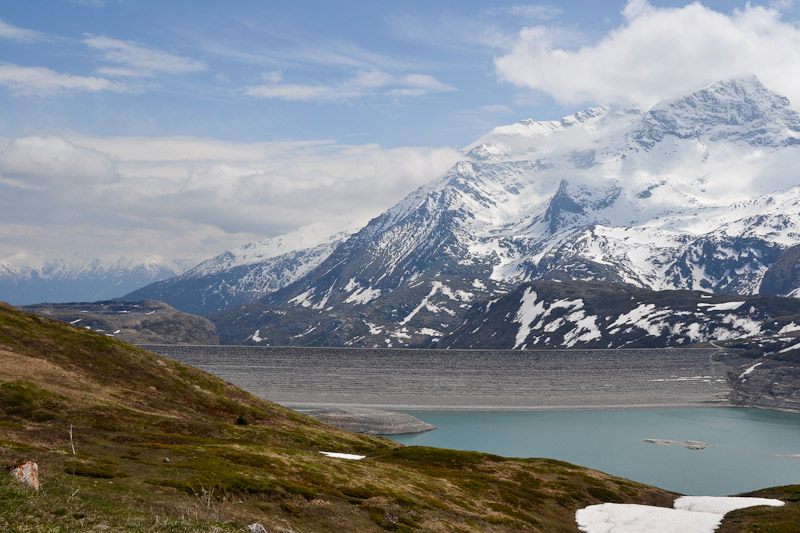 Dam
Peter at Col du Mont Cenis
What the area looks like when the reservoir is full
Panorama of Col du Mont Cenis
(full res panorama here)
Dave starting down Col du Mont Cenis


At this point our route was going to take us West for a bit then South over Col du Galibier and Col du Lautaret, both of which were supposed to be fantastic roads and frequently show up on the Tour de France. Once we got to the start of Col du Galibier though we were greeted with a sign informing us the pass was "FERME". Uh-oh. Our hotel for the night in Briancon was on the other side of these passes and it looked like there weren't a lot of other options. Dave and Peter punched buttons on their GPS's for a while, and hatched a plan to go further West to Col de la Croix de Fer. That would take us south to where we needed to go, but if it was also closed we would be in trouble.

I don't have a lot of specific memories of this pass, other than it was really bumpy and narrow, and felt very "off the beaten path". Not normally a bad thing, but we were already way behind schedule and not sure if we'd make the hotel or not. There were a couple detours off the pass which only added to my anxiety.


Not sure, but I think this is heading over Col de la Croix de Fer
Signs for walking paths
Stopped at the crossroads by this little dam to confer on the right route.
Col de la Croix de Fer was actually pretty in some places but I was just eager to be done for the day (or at least know what the rest of the day would hold).


After what seemed like hours we popped out onto the main road, D526. We pointed the bikes toward Briancon and twisted the throttles. Around Villar-d'Arene the road became very interesting for a little while, big sweepers and alpine scenery, then headed back down to the straight-as-an-arrow main road. It was about this time that gas was becoming an issue for all of us. We finally found a station, but after trying card after card it looked like only Peter's Canadian Amex worked. Thanks for the gas Peter!

We did our best to beat the darkness to Briancon - so much so that I got flashed by a speed camera at one point. We made it to the hotel around 9pm, just before closing time for the restaurant. Cold beer never felt so good.


What a day.