WV in the Fall – Dogs, Deer, Cows and Bigfoot!
This was my fourth trip to WV in autumn in 3 years. It's been a great way to finish up the "good" riding season, several days riding nearly endless twisties amongst great fall color. Last year my buddy Dave (nearlyseventy on STN) came with me, and this year he and I were joined by his friend Peter (gasgauge on STN) from Canada. Unlike pretty much every other trip I've done, this one had no real set plan. Other than our meeting hotel on the first night we had no reservations and no set routes.
Speaking of routes, I had posted on STN asking for some "second tier" road suggestions in WV, and got some really great suggestions. I have done the "usual suspects" several times (33, 250, 39, Mt Storm) and was looking to expand my horizons. Dave loaded his GPS up with everyone's favorites and we would do our best to hit as many as we could.
Wednesday, October 7th
Weather was not looking too great for the weekend, with a couple days of rain predicted, and it was getting off to a terrible start with 25mph winds gusting to 50mph on Wednesday. I wasn't too concerned about the wind other than having to deal with the Delaware Memorial Bridge to get out of NJ.
Remember the beginning of "Planes, Trains and Automobiles" when Steve Martin is stuck in a meeting waiting to leave? That was me at our monthly staff meeting, tapping my fingers on the desk while wearing my motorcycle boots under the table. Blah blah blah, low hanging fruit, blah blah blah, leverage our core competencies, blah blah blah.
On the road at 3:05pm. Slow going getting out of NJ, lots of traffic and some road construction costing me about 15 minute. Wind was really blowing as I crossed NJ, and my short ride on the NJ Turnpike had me getting knocked around quite a bit. The DMB had a 25-mph speed limit due to the "severe wind warning" so I braced for the worst as I started up the span.
Fortunately I needn't have worried. Like every other time I've crossed that bridge it was utterly serene once I was on the span. Descending into DE the wind picked up considerably again, and I braced for some windy slab. About 20 miles later I exited I-95 for my usual back road route to western MD.
I like crossing the Susquehanna river on the Conowingo Dam, so I headed out 274 to 273 and onto 1 for the dam. As the river came into view, I noticed that the wind had really kicked up the water, forming whitecaps and making waves crash into the dam. No sooner did I start across when a large wave broke over the dam and soaked me with spray. Didn't expect that today.
Followed 851 west for the most part, except for some GPS-induced little side roads. I had hoped to arrive in Williamsport, MD to meet Dave and Peter before it got dark so I didn't have much time to dawdle. Quick run down US15 took me to Thurmont and a very nice ride on 77 through Catoctin Mountain Park. 66 down to I-70 for a few minutes, then onto US11 and exited for the hotel right around 7:05 with darkness just descending.
Dave came out to greet me, Peter was dead asleep in his clothes in the room. He was up on the road at 7am for the ride down from Toronto, and it had taken it's toll. The only restaurant within walking distance was the Waffle House, which was quickly dismissed as an option. We suited up for a quick ride to the center of town and had a good dinner (and great desserts) at Ruby Tuesday's (the same one Frank and I ate at on the way to Denny's). We put together something of a plan for the next day, and rode back to the hotel.

Thursday, October 8th
The day started with breakfast at the Waffle House, where we ate in "missing man formation" due to the absence of Jim who couldn't join us on the trip. Our first target for the day was "Old Route 55", which proved elusive when Frank and I rode down here earlier in the year. We did eventually find it that time, but more by accident than intent. This time we were approaching it from the East, via 277, and it was easy to find. What a great ride up and down the mountains, with zero traffic. It was very cool passing under "new" 55 a few times, with some impressive high spans over us.
Old 55 eventually dumped us in Moorefield where we stopped at a McDonald's for a quick break. There was a WWII vet inside who talked us up some, but he'd had some vocal surgery and unfortunately was very difficult to understand. I'm quite sure he had some stories to tell - I did catch that he was a paratrooper in the war. We also had an interesting conversation with the owner of a pickup outside in which the world's cutest and best-behaved dog had gotten our attention. Being in WV, and seeing the guy and his old ratty pickup, I fully expected his attitude to be "yup, that's my dawg". Instead we told us how he works with the dog every day, training him to work the cows, keeping a logbook of his training, etc.
Dave and the Australian Blue Heeler pup
Our next road was the infamous "Smoke Hole Road", which on our trip last year I decided was the best motorcycle road I've ever been on (this was, of course, pre-Alps). I was eager to return to ride it again, and eager to introduce Peter to it. Once again, it did not disappoint. Coming in from the North, it's a nice easy ride for a few miles before the real fantastic section begins. Turn after turn after turn, excellent pavement, no other traffic. The fall foliage was near-peak in sections, adding to the beauty of the road. Dave led on the way down, and we stopped for a bit at Eagle Rocks to get some pics.
Our bikes at Eagle Rock
Peter eyeing a stray cow on Smoke Hole Road
I led the ride back up Smoke Hole and was definitely "in the groove", one of the best rides of the weekend. We rode down to Seneca Rocks to take some pics and just relax a bit.
The trusty Multi at Seneca Rocks
This was the road beyond the bridge. I passed.
Peter and Dave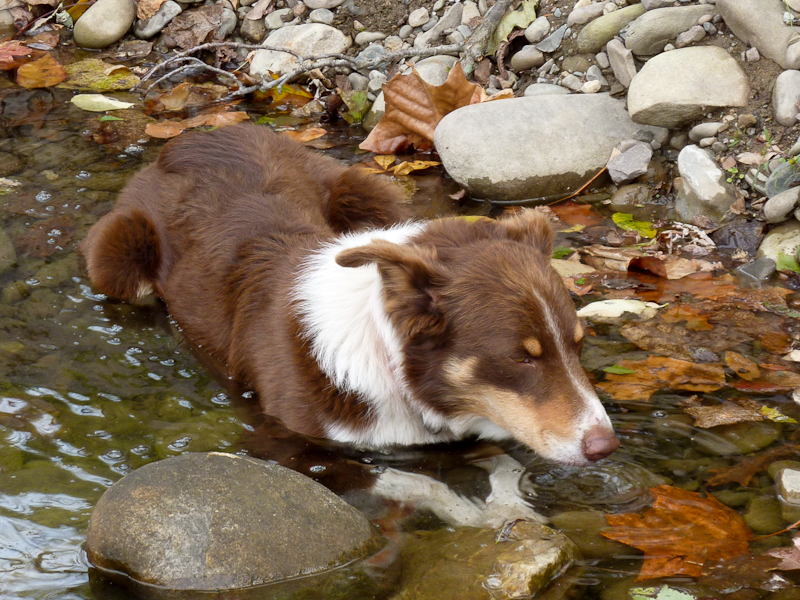 This little guy was limping through the park and liked laying in the cold water.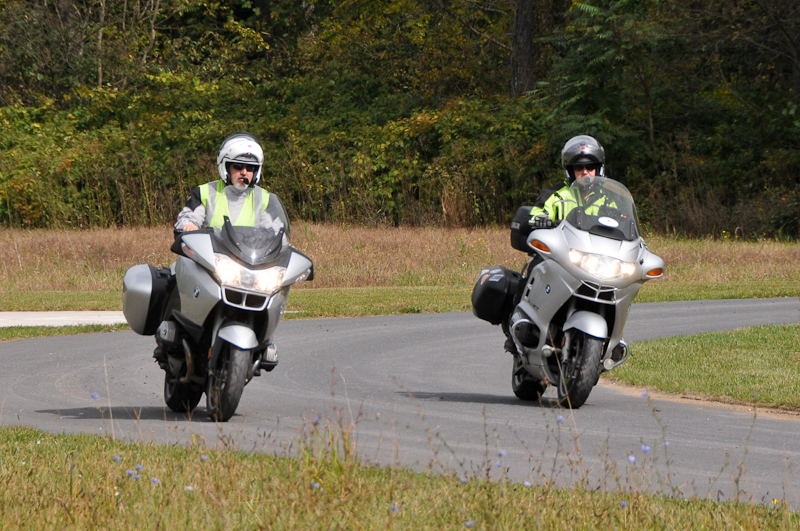 Dave and Peter at Seneca Rocks
We stopped for gas and lunch (well, some junk food that will have to pass for lunch) at the little store near Seneca Rocks. Struck up a conversation with another rider there, who turned out to be STN's "Formerly Known As Bigfoot". He had read about my trip to Smoke Hole last year, and gave the road a try. Another convert!
"Formerly Known As Bigfoot" near Seneca Rocks
We also talked with a Miata driver from Georgia who says he comes up to WV a lot to go riding. He suggested a nearby road we shouldn't miss. We gassed up at the old-fashioned pumps and got ready to continue our ride South. Dave and I got done first, so we pulled away from the station waited by the country store, with our backs to the pumps. We had the Q2 headsets on, so we chatted about this and that while we waited for Peter. And waited. And waited. Eventually he rolled up, and we took off, thinking nothing of it.
What we didn't see was Peter dropping the bike when he left the gas pumps. IIRC he came to a quick stop by the driveway, and when he put his foot down there was nothing but air underneath it. By the time he did touch ground the lean was too much to hold up, so he gently put it down. Then spent the next couple minutes wrestling the beast back upright while his two buddies were completely oblivious to his plight. We didn't find this out until dinner that night when I had asked if anyone had ever dropped their bike, and Peter responded "You mean other than today?". Sorry friend.
The road the Miata guy suggested turned out to be nothing special. That's what you get for listening to cagers. Eventually we found ourselves at the corner of 219 and 250 in Montereys, at the same gas station where I happened to run into Frank (fjrski!) a couple years back. It was actually getting hot out, so we stopped to adjust our layers. Took 250 west in search of another STN-suggested gem, Back Mountain Road. We had some trouble finding it, as the GPS and the road signs did not agree. We did one loop of "not Back Mountain Rd" before trusting the GPS.
What an absolute hoot this road was. Not a road for fast riding, by any means. Very narrow, lots of leaves and gravel, but a real interesting trip up and down the woods. With Dave in the lead, all I heard through the Q2 was "gravel gravel gravel...pause...gravel gravel gravel...pause...gravel gravel gravel".
We stop for some pics on Back Mountain Rd
Looking back on Back Mountain Rd
Back Mountain Rd eventually dumped us out near the Cass Scenic Railroad, where we stopped for a break and took some pictures. Unfortunately the trains were all put away for the day.
It was getting late in the afternoon, so we figured we'd missed any chance of touring the National Radio Astronomy Observatory (NRAO) but decided to at least go take a look. I'd been there twice, but just a ride-in, ride-out, and Peter had never seen it. When we pulled in I was thrilled to see that they offered tours into the evening on Thursdays. We parked up and headed in. Turns out I couldn't use my digicam once we got close to the dishes (interference). The one lady who had a film camera was allowed to take pictures.
Something to do with liquid nitrogen and expanding air molecules (we came in late)
I grew up with Checker Marathon taxis, but never seen a wagon. This one was a diesel, as gas-powered engines produce too much interference to use near the dishes.
The very first radio astronomy dish, originally built in someone's back yard.
The closest I could get with my digital camera
Tour over, we got back to our bikes just as a little rain was falling. We had no hotel reservations for the night, so we would take our chances in Marlinton, which looked on the map like the closest "big" town. There were dozens, if not hundreds, of deer on the side of the road as darkness fell on our ride south. One crossed the road directly maybe 20 yards in front of me, but thanfully the rest stayed put.
Marlinton was not quite what we were expecting. I guess I had visions of a typical "freeway exit" town, with a Comfort Inn, Applebee's, Waffle House, etc. Instead we found Marlinton to be quite cute and not at all like an anonymous service town. The first place we passed was the Greenbrier Grille and Lodge, which looked like it had rooms to rent. We rode past it over the bridge to see what else their was - nothing.
Fortunately they did have rooms, at they were cheap - $50 I believe. The room was nice enough, and I quickly got cleaned up for dinner. We were hoping the restaurant downstairs would be decent, but we were disappointed. Peter and I were even more disappointed that they didn't serve alcohol. Just something about a cold beer at the end of a long day of riding - just perfect.
We walked the town a bit after dinner, not much to see.
Friday, October 9th
Breakfast was at French's, the local greasy-spoon diner, which was actually pretty good. Overheard an interesting conversation with one of the customers, a young lady who was against the new H1N1 vaccine because of the mercury and antifreeze the government is putting in it.
Peter at French's (Dave's Photo)
Simple place
Our main goal for today was the New River Gorge Bridge. The roads were wet from last night's rain, but the forecast was looking good for the rest of the day. We immediately climbed out of Marlinton on 39 and headed west through the Monongahela National Forest. Most of the road isn't very twisty, but it is very isolated and quite pretty. Just miles and miles of forest, very little traffic and no development.
Since neither Dave nor Peter had been to the Glade Creek Grist Mill before I planned a detour to Babcock State Park on the way to the bridge. We took 39/55 to 20 south, then 60 West. At one point we passed a car carrier full of Cadillac Allante's. How odd is that?
Glade Creek Grist Mill and bikes
Babcock State Park was pretty empty, just us and one or two other folks. We walked around to get pictures, and were plagued by swarms of flying bugs. I had to photoshop some of the pics because most of them had spots due to bugs on the lens. The day was definitely getting hotter, which is quite a contrast to when I was there in 2007 and couldn't take off my heated jacket because I would start shaking from the cold.
Glade Creek Grist Mill in Autumn
As we were readying to leave we got approached by an older gentleman offering us advice about more good riding in the area. He suggested heading down near the Bluestone Dam, but we felt that was farther south than we wanted to go. We had seen signs for an overlook on the way into the park, so we headed there next. What a great little road leading to the overlook! We were the only people in the park, and the fall color was spectacular as we rode through the woods.
Nice guy offering Dave some road suggestions
Me, Dave and Peter at the Babcock State Park overlook
On the way back from the overlook I wanted to get some action shots, but it turned out to be a lost cause. There was hardly any light in the forested interior of the park, so I was working with 1/30th of a second or so. I also made the mistake of shooting from a culvert lower than the road, which put my lens right in line with the bike's headlights - too overpowering.
Forgive this terrible pic
After Babcock it was off to the bridge. Once we finally found the visitor's center it was getting really hot out. We locked our gear to the bikes and hiked down the stairs to the lower viewing platform.
Smilin' Dave
Dave, me and Peter at the New River Gorge Bridge
We'd be heading over that bridge soon enough
While half the reason we were at the bridge was to "see the bridge", the more fun reason was to ride 82 down under the bridge. We've had reports of the road being "no big deal, busses do it" to "not suitable for bikes, no fun at all". With a mixture of trepidation and excitement we started our downward journey.
The roads was a lot of fun, very tight and twisting, but not a fast road at all. Thankfully most of it is one-way so the narrowness isn't a big issue. The pavement was pretty crappy, but still pavement. There were a couple super-tight zero-degree hairpins, which the guys handled just fine. I remarked to them that since they handled the hairpins on 82 OK, the Alps would not present any problems. The road was kind of reminiscent of some of the tighter Alps passes I road this summer, though the Alps had nearly perfect pavement.
Looking up at the bridge
Fun gravel loop to the boat launch
We stopped for some pictures down at the bottom, the rode up the other side and grabbed a quick lunch at Subway in Fayetteville. By now the temperatures were in the 80's and we were cooking.
After lunch we rode back over the bridge, which despite the windy weather was pretty calm. From there we took 60 West again, which was really spectacular once you passed Hawk's Nest State Park. At 16 we hooked North, and continued on to the small town of Clay, where we picked up a small backroad that eventually took us East back to the intersection of 19 and 82. Dundon-Widen Road perhaps? What a hoot! Every kind of turn imaginable, terrific views, no traffic, very few houses, couple more dogs, just a lot of fun. I think Peter enjoyed that road the most so far.
While the guys were gassing up (I had about 60 miles yet to go) someone told us that a bad storm was approaching and would arrive in about an hour. We had a choice at this point - ride straight down 19 to Summersville, or do a loop on 82/20/55 to get us there. Since the day had gone so well so far, we chose the longer loop and took our chances with the weather.
We weren't too far along on 82 when I had an incident with a big stick in the road. For full details see this post: http://www.sport-touring.net/forums/index.php/topic,45442.0.html
Grrr.
The rest of the loop back to Summersville was not great. Traffic was an issue for the first time this trip, so we just settled in for a slow ride to the hotel. I'm pretty sure my incident didn't help my mood either.
We tried the Super8 in Summersville first, as there was an Appleby's right next door - perfect for drinking with no need to ride. Only smoking rooms left, so we had to settle for the Sleep Inn across the (very busy) street. Got cleaned up and we walked over to dinner, and as soon as we sat down at the bar the rain started coming down hard outside. We discussed my incident over some beers, and watched the Yankees beat up on the Twins in the ALDS. We lingered over dinner waiting for the rain to stop, and eventually walked back to the hotel.
Weather for the next day didn't look great, but our only plan was to end up around western Maryland so we were pretty flexible.
Saturday, October 10th
Woke up to heavy rain, no surprise. Forecast called for clearing later in the morning, so we had a long breakfast and hung out in the hotel lobby for a long while. Eventually the rain started to slow so we geared up and headed out. First up we wanted to find a sign for the town just north of Summersville, Hookersville. Unfortunately, at least from US19, there was no exit or even any sign hinting at it.
We peeled off 19 onto Old 19/40 for the ride north to 15. This turned out to be a nice little road, but the wet roads kept the pace down. By the time we reached the dam at Sutton the rain had stopped and the sun was coming out.
Sutton Dam
Dave and Peter
Quick composite
The view downstream
Oh, maybe we shouldn't be up here
As the weather was steadily improving we hung out at the dam for a while taking pictures and shedding layers of insulation Dave also took this opportunity to really try to figure out how to get all 3 of us connected with the Q2's. A can talk to B, and A can talk to C, but B can't talk to C, etc. After a lot of button pushing we kinda got it to work.
"While holding the MIC button, press the CTL button for 12.1 seconds then click your heels 3 times...."
Since the weather had improved so much we opted to find more STN-suggested twisty roads on our way up to Maryland. Just north of Sutton he hooked up with 15 East, which took us to 20 North. What a great, great section of roads these were! Again we were somewhat tempered by the wet roads (and debris), but it was still a great ride. Passed a couple bikes coming the other way, which stood out because we really hadn't seen any all trip. One guy was on a black Aprilia Dorsoduro, first one I've seen in the wild.
Stopped for lunch in Buckhannon at the Ole Mill Restaurant, which was OK. Passed by a classic looking Dairy Queen on the way, so I insisted we walk back there for some dessert - I did not receive any objections.
The Ole Mill
Classic DQ
Next goal for the day was something called the "Stemple Loop", as suggested by STN. We had a pleasant ride up 119 to Philippi where we came across a very cool double-width covered bridge. We were quite suprisesd to see a covered bridge still in use on such a busy road. Very cool!
Philippi covered bridge
After Philippi we took 38 E to the bottom of where we thought the Stemple Loop was. My GPS suggested a little road coming off 38 going north toward 72, and that turned out to be spectacular. The first section had fantastic views of the mountains, covered in full fall foliage. The second section descended quite steeply down into the forest, surrounded on all sides by the rich reds, oranges and yellows of the leaves. Really just wonderful. Eventually put us on 72 right around the burg of Auvil.
I don't think we actually did the Stemple loop we had planned, but we did find ourselves on some great roads between 38 and 50. We were on Stemple Ridge Rd, and I think Location Rd for a bit.. We stopped for a while to try to get some action shots, but they just came out OK, not great.
Gorgeous
This sure isn't Toronto
Dave
Peter on Stemple Ridge Rd near Scales Rd
Peter on Stemple Ridge Rd near Scales Rd
After trying in vain to figure out how to navigate the planned Stemple Loop, we gave up and set our sights on Mt Storm Rd. We took 219 south (always a pleasure) to 93 East and over to Mt. Storm Rd. 93 is a strangle little connector road, very flat and straight in contrast to most of West Virginia. I was interested in seeing the power plant again, as that stood out in my memory from my trip to Indy last year. Seemed to be a lot more windmills in the area this time around.
When we go to Mt Storm Rd (42), I sent the boys on ahead as I was getting pretty tired by now, and just wanted to take it easy going down the mountain. I've done the road several times before and just wasn't in the zone. Both Peter and Dave really enjoyed it, as it has tighter turns than most of the sweepers we'd been on all day.
From the bottom we pretty much made a beeline to Cumberland, MD to find a hotel for the night. Ended up at a Red Roof Inn for $90/night(!) that was the only place in town with rooms available. Walked to dinner and then over to Applebees for drinks and bullshitting. Tomorrow would be just riding back home to NJ.