Ride to Ronk's
From L-R: JetSet (Trevor), TJConc (Tommy), stinkbomb (Jeff), GearedUp (Garry), KenDenton (me), Googus (Greg), QueenBee (Debbie), marty2 (Marty), Roben, FKaiser (Franz), Dave, Greg, ERR (Dave), Courtney, John
Finally the planets were in the right alignment and I could get in another ride with the CentralNJ crew from STN. The plan was to meet at either Johnny's Truck Stop on 78 at 8:30am, or in Frenchtown at 9. I opted to meet up for breakfast at Frenchtown.
Got on the road around 6:50am, uneventful ride on 55/295/29 to New Hope, PA. Stopped for gas and ATM, and did a quick ride up and down the New Hope strip. There were about a dozen sport-touring types parked outside one of the restaurants, including a nice silver Moto Guzzi Norge. Mmmm.
Early morning, Route 55 North
Thankfully very little traffic at this busy merge
Took the bridge back over the Delaware and continued up 29 to Frenchtown. Had a wake-up call in Stockton when a deer crossed my path about 20 yards ahead. Not in danger of hitting it, but startleing nonetheless. I got to the Cornerstone Cafe around 8:45. I wasn't there 5 minutes before the next rider pulled in, Marty2 on his R1150R. We chatted for a bit until the first wave from Johnny's arrived around 9:15.
First one in Frenchtown
But not for long
Someone (TJConc?) was smart enough to call ahead, so we had reserved seating for 16 waiting for us inside. Nice! Though we were warned to save room for the upcoming lunch, many of us ordered a good-sized breakfast as well. Service and food were top-notch. At some point during breakfast the second wave arrived, and they were getting served as we were finishing up. Good conversation all around, met many new folks from STN.
Breakfast
After everyone finished up it was time for the big photo shoot outside, after which we split up into 2 groups for the Ride to Ronk's. Some very complex route sheets were handed out, and promptly stuffed inside tank bags and jackets. My plan was to follow the guy in front of me :-)
The route sheet (camera phone pic)
Breakfast photo shoot
All told we had 16 people on 15 bikes. Doc led the first wave out of the lot at around 10:40, and TJConc (Tommy) led the second. I rode in Tommy's group, ride behind Jetset (Trevor) and in front of ERR (Dave) who was running sweep.
Very narrow section of 627 in NJ
Good pace ride for me, ERR was hanging way back in the twisties which let me keep an unpressured pace. Jetset in front of me was also keeping a relaxed pace (and looking pretty relaxed with his feet on his highway pegs - on an FJR!), and the group in front of him was putting some distance between themselves and us. There was some traffic to deal with, but overall a decent ride with some good (but short) sections of twisties.
Just cruising through PA
At a light in Quakertown, PA
We made an unplanned stop at the Daniel Boone Homestead for restroom and smoke breaks (but declined to purchase coonskin caps), and then rode around French Creek State Park on our last leg to Ronk's.
At DBH
Leaving Daniel Boone's Homestead
Amish Country
Nice sweepers
Once we hit 340 there was a bit of traffic to contend with, both motorized and horse-driven. We got split up a few times passing slow moving cagers, and one of the guys stopped to take pictures of the Amish (which, by the way, is not something they are too keen on).
Arriving at Miller's
Googus (Greg) attempting to adjust his chain
Soon enough we arrived at Miller's, suprised to find that Doc's group had only just arrived as well. Considering that we stopped for 15-20 minutes at Daniel Boone's this may say something about Tommy's pace :-) Went inside and got 2 tables for the 16 of us, with our server Cathy promising to take care of us.
Once drinks were served Doc proposed a toast to Steven Laird (Rasta), a fellow STN'er who was killed in a motorcycle accident earlier in the month.
After that, conversation turrned to vacations with and without spouses, cruise ships, MotoGP, pacing yourself at the buffet, scrapple, the BRP and Deal's Gap, the Kevin Schwantz racing school, and Doc's experience at Miller's with the "Ride to Eat" crew many years ago. Dave then challenged the group with the difference between Amish and Menonnite buggies. That stumped most of us.
Eventually all the plates were empty, the desserts eaten, and the bellies full. Since we had neglected to bring blankets for a siesta, it was time to move on. We took over a nearby gas station, where I promptly dropped my camera and didn't notice. Thankfully ERR did notice, and I have pictures to go with this narrative. Most of the folks were heading back to Central/Northern NJ so I said my goodbyes and headed home via mostly 896. Nothing too interesting about the trip home.
Taking over the local Exxon station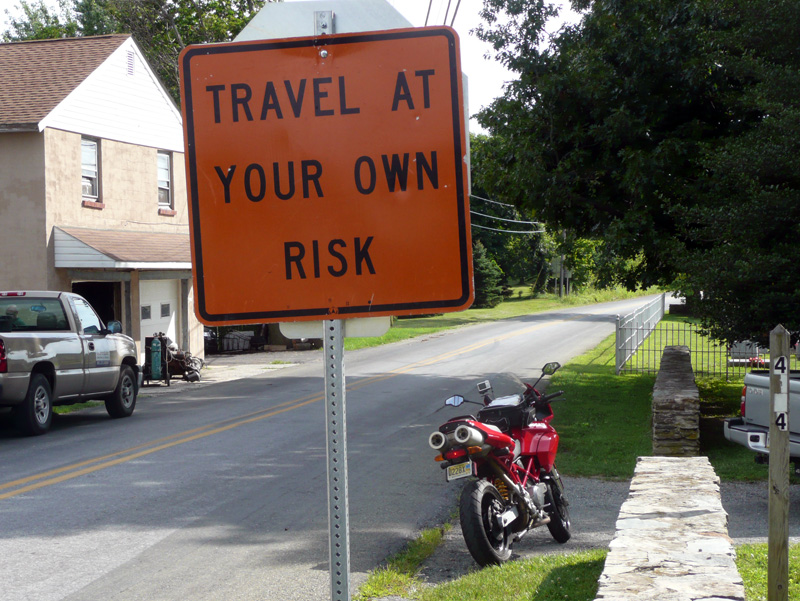 Best sign I saw all day
Back in the garage around 6:20, with almost 300 enjoyable miles for the day.
The route on Google Earth