My First Solo Motorcycle Trip
The Plan:
Travel by motorcycle from Glassboro, NJ to Cincinnati, OH and Louisville, KY and back again, avoiding the interstate if at all possible.
The Reason:
Join 770 other enthusiasts and ride roller coasters at Kings Island, Stricker's Grove and Kentucky Kingdom at our 1994 Spring Conference.
Tuesday
Got up extra-early to pack up the bike and head to work for a half-day before leaving for points West. I had everything pretty much packed up the night before (saddlebags, tent, sleeping bag, etc.) Weather forecast for the day (and the rest of the week) was not good. Tuesday was supposed to be somewhat rainy, with good, solid rain all through Sunday. Great.
Had lunch before leaving at Wendy's in Glassboro, with 'Good Day Sunshine' on the musak. I was being mocked already. My co- worker suggested that 'Riders on the Storm' might be a more appropriate send-off tune. Ha ha. The weather was just barely misting as I headed out on 322(W), so I held off on donning the rain gear. Maybe I'd get lucky. 8 miles later, I was on the side of the road doing the rain-gear hop and cursing myself. The rainsuit stayed on for the next 6 hours.
Took 45(S) to 40(W) and over the Delaware Memorial Bridge into Delaware. OK, now I was beginning my travels. Somehow I find it hard to start to get excited while I'm on roads I know by heart. Newark, DE (with the accent on the ARK as opposed to NJ's accent on the NEW) gets my vote as the most confusing town to navigate through. The area around UMD is quite pretty, but every road seems to turn back on itself and go a direction you didn't expect. After Newark, things got much better. Took MD 23, 138, 137, 482, 140 to Thurmont, MD. Routes 138, 137 and 482 were quite nice, with some fairly twisty sections through farmlands.
Arrived in Thurmont, MD about 7 or so, looked to be quite an attractive town. Had a quick dinner at Rocky's Pizza (which I recommend highly for pizza). Figured I'd pitch my tent in Catoctin SP just up the road, and settle down to read some more of Blue Highways, by William Least-Heat Moon. If you're going travelling, this is a book I can't recommend highly enough. But I digress. A light fog was settling in when I got to Catoctin SP, and the sign said that the campgrounds didn't open for another few days, but there was a year-round campground about 10 miles back at Cunningham Falls SP. Before heading that way, I took the road through CSP, which was quite fantastic. Ultra- smooth, ultra-twisty, and fog enshrouding the higher elevations. It was like riding into the clouds.
Came back down and headed to Cunningham Falls SP. On the way there, I passed a small stream on 77 with a tenter next to it. Hmmm. Got to CFSP, sign said they were closed. Nuts. OK, I'll head on out West and see what I can find. On my way on 77 again, I passed the same tenter, and decided to go see where he's camping. I found the entrance to a private campground (I wish I had the name with me, it's listed in Thurmont, MD), and rode up the 1/4 mile dirt and gravel road only to come to a sign that said 'No Motorcycles'. I decided to ride on up to the registration house anyway and plead my case. I knocked on the door and was greeted with 'Didn't you see my sign?'. I explained that both State Parks were closed, and I was travelling alone on my quiet bike, and I'd be gone in the morning. 'Those are the rules'. Slam. Nice guy.
Took 77 out past Hagerstown. Hagerstown is ugly by night. Probably ugly by day, too. Took US40 to Hancock. No motels to be had, except the 'All-Waterbeds' motel. I'll pass. Continued on I-68/40W to Cumberland. Another not-pretty town. I rode out to Spring Gap SP, but they were also closed. Looking back, I'm glad I didn't have to try to ride up their dirt entrance hill the next morning when it would have been a mudslide, but I'm getting ahead of myself. Back on I-68/40W.
Saw a sign for New Germany SP, and figured I'd try it. By now, it was about 1 am, and I was beat. 8 miles down the darkest road you ever saw I came to the campground, and I knew I'd be staying whether they were open or not. I ended up setting up camp on the side of a parking lot in a nice raised, grassy area. 1/2 hour after I fell asleep, I awoke to the sound of heavy rain pouring down. Great. Fortunately, the inside of the tent and I stayed very dry, except for my sneakers which I had left in the vestibule, the cover of which blew open during the night. I had to pour the water out of them the next morning.
Miles for Day 1: 333
---
Wednesday
I did not enjoy packing up the tent and bike in the rain, but what can you do? Had a nice ride through the mountains on MD 495 and 135 into Oakland, MD where I got some breakfast and did a quick clean-up on myself. Took 219(S) to 50(W) and into West Virginia. I had hoped to get a pic of the 'Welcome to WVa' sign, but it was on a wicked curve with a wet mud shoulder. Oh well. I gassed up in Aurora, WVa and headed W on 50 toward Grafton. Only a couple of miles out of Aurora the sky started getting darker and darker, and I pulled into Cathedral SP to see what would happen. No sooner did I get the kickstand down did the skies positively open and emptied themselves. Waited it out for about an hour on a picnic table under an awning. Ho hum.
50(W) to Grafton is a hoot, probably much better when it's dry. I had figured 50, being a major east-west route, would be rather flat and bland. Not quite. Up the mountain, 9.5% grade, 15 mph turns, down the mountain same thing. Wheee! Got to Grafton and headed down to Tygart Lake SP to wait out another impending storm. Sure enough, the rains came down again for a bit, then the sun broke through. West Virginia has some potent (and fickle) spring weather. Bright sun, pouring rain, high winds, all the ingredients for a great motorcycle trip.
50(W) from Clarksburg is a snoozer - more like an interstate than anything else. Got off at West Union for something to drink. Is every gas station in WVa also a video rental store? Back on 50(W), really strong sidewinds. Not a lot of fun at speed. Got off at something Ridge Road, and within 2 miles I was in the real backcountry of WVa. Some houses, some farms, lots of nothing. Just having switched to reserve, I was becoming concerned about where this road would lead (I couldn't possibly backtrack, never :-)). Came across a couple of utility linemen, and between tobacco spits they set me straight on where I was headed - Walker. Walker, West Virginia is a schoolhouse and a gas station (with video rentals). Took 47(NW) to Parkersburg. Very nice road through some small towns.
Crossed into Ohio at Belpre, and was planning to head for Marietta to spend the night. I didn't want to risk another night of campground searching, and Marietta was the closest town with a bunch of motels to choose from. Got a little lost and ended up on 7(S). I'd heard good things about 555, so I stayed on 7 until I picked up 555(N) at Little Hocking. What an amazing road! 18 miles of super-tight twists past farms (no towns) to Bartlett. From Bartlett, took 550(E) back to Marietta. So far, 550 gets my vote as best road. Sweeper city through lush countryside. Turns not so tight as to require a lot of braking, felt like I was flying, just swooping from side to side to side. Nice. Marietta College is nice looking, and the old section of the city with nicely kept Victorian homes made a nice entry into the city. Found a cheap motel and bedded down.

Miles for Day 2: 253
---
Thursday
Took 60(NW) to McConnelsville. Fast road, past a nuke plant (closer than I'd have liked, actually), past an Adopt-A-Highway sign sponsored by the local VFW Motorcycle Club, past a truck carrying a load of piglets.
At McConnelsville, I hopped onto 78(SW). This was probably the most anticipated road of the trip - I had head about it from another Denizen (Sanjay), I had read about it in _Rider_, and I believe it's on the Recommended Roads List. It gets off to a slow start, but it doesn't disappoint. The pavement is a bit rough on the McConnelsville side, but smooths out after the Hilltop Store. This is one singularly twisted piece of asphalt all the way to Malta. Road going every which way, up, down, tight, sweeper, decreasing radius, off-camber, you name it. Lots of fun.
At Glouster, took 13(S) to Athens. Started to see a lot of signs from the recent flooding (unless everyone plants their trees under water). 56(W) to Orland is a great fast road, lots of sweepers, little traffic. 93(S) to McArthur was a disappointment - very straight, lots of trucks. I stopped for lunch at the Main Street Diner in McArthur, hoping to soak up some local color. The food was terrible (microwaved), and the conversation all around was on the upcoming turkey shoot. I ate as fast as I could and got out.
Took 50(W) again, this time only to 671(N). There's a good road up a mountain. About halfway up, I braked for a turn and noticed I could barely move my right foot off the beg. Hmmm. Maybe I'm starting to cramp up. Another brake, again I could barely move it. I'd better stop and walk a bit. Stop the bike and look down, I've got this massive wad of chewing gum connecting my sneaker to the footpeg. Yuck. Scrape off as much as I can (that waffle pattern on the rubber footpeg holds a lot of gum), and get moving again. Now it's just like moving my foot in slow motion from peg to pedal.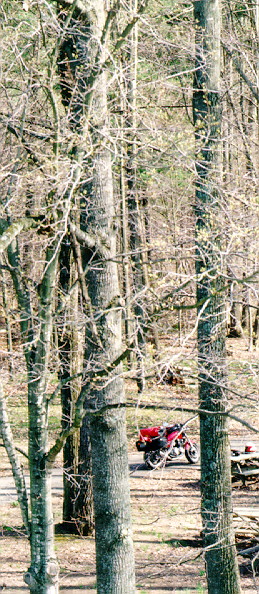 Quick trip back down 327(S) to join 50(W) again. West to Chillicothe, and onto Pike Lake SP to relax for a while. Very nice SP, especially back behind the lake. Pike Lake State ParkStayed for a couple of hours, read "Blue Highways" some (he was driving across Montana at the time). I really wish I could camp here for the night (they're open and everything), but I had to be in Cincinnati that night to meet some people. Had a problem getting the bike started again. The engine would turn and try to catch, but it seemed like it wasn't getting enough fuel. Off with the luggage, off with the seat, see if any of the hoses off the tank are crimped. Nope. Hmmm. Finally, while rocking the bike on its centerstand semi-violently, it starts. Great, I'm 700 miles from home and I don't trust the bike at this point.
The roads are starting to get straighter, but still quite fun. Stopped at the McCafferty covered bridge off 50(W) near Marathon, OH. The earliest scrawl I could find inside was dated 1937. As I was checking my map, a helmetless biker came up the small road to the bridge, with a very young (6? 7?) girl in her one-piece bathing suit riding on the tank! He asked me if everything was OK, and was on his way. I hope he had an uneventful ride, for the girl's sake. 50(W) from Owensville to 222 is a big surprise - mega-twisty! Ended up on I-275 for about 15 miles to the motel in Sharonville. Bike started acting up as soon as I got off I-275. Just died. I could get it to run if I put the choke almost fully in, and took it easy on the throttle. If I gassed it too much, it died. Limped along to the motel, problem went away by itself. I'm not liking this.
Whoever said Ohio is boring must not have spent much time in the lower half of the state. While what I rode of West Virginia was certainly more intense, Ohio offered up almost endless curvy roads, most with excellent paving. However, I never saw a state with so much construction going on before. Everywhere were orange traffic barrels. I've seen less than a dozen bikes since leaving NJ, I expected a lot more. Most of the bikes out here seem to be Harleys, we'll have to wait and see. My bike is going to need a new rear tire soon (center groove almost gone), and a new chain (running out of adjustment room). I'm still taking off the dirt in clumps from Tuesday and Wednesday's wet weather travel days.
Miles for Day 3: 280
---
Friday
Closest motorcycle dealer is Fine's up the road a bit. Ride out there at 8:30, maybe they open at 9. Right. They open at 10. I walk next door to get some food for the next 90 minutes. Maybe 15 minutes later, a pickup arrives with a 80's Suzuki GS750? tied to the bed. Out jumps Tim. On closer inspection, the bike looked like crap. Mirror broken off rusty stalk, drag bars, scraped cases and tank, and the baldest, flattest tire I'd ever seen. There was a hole maybe 1.5" by 6" in the center of the back tire - after it went flat, Tim spent a lot of time doing burnouts on it. Tim was about 25 or so, with Oakleys on. For the hour or so until the shop opened, he could not stop talking to me. Some of the things I learned from Tim: He broke his helmet last night 'throwing it at his old lady'; His kid broke off the mirror last week (why the rust then?); His 750 is actually bored out to 1100+ (!); He doesn't like to drive on the street because he can't keep the front wheel down; His 16 year old cousin was killed last night in a head-on with a semi on his 2 day old CBR600F2; He needs to replace his No Fear keychain; and much, much more. I'm not kidding - this guy is out there somewhere on the roads of Cincinnati.
Fine's looked at the bike and declared everything OK. Without a major taking-apart, they couldn't find anything out of the ordinary. OK, we'll see. Went to Stricker's Grove (a tiny private amusement park near Ross, Ohio), and then to Kings Island, where the park was closed to the general public from 6p- 10p, and all the roller coasters were operating just for us. Fantastic, but that's for a different news group.

---
Saturday
Back to Kings Island until about 2:00, and from there I left for Louisville, KY. Had to take I-71(S) through the city and over the river, and then got off at 42/127(S). Again, the bike started to die unless given full choke and driven gently. After a few minutes (and a lot of cursing), it went away. 42(S) is a very good way to get from Cincinnati to Louisville. In the first part, I passed three towns in a row with great names: Big Bone Lick, Beaverlick and Sugartit. And I thought Intercourse and Blue Ball, PA were good! 42 follows the OH river for a while, and then heads up into the mountains for some solitude and twisties. Made it to the motel around 6, and crashed for the night.
---
Sunday
Off to Kentucky Kingdom for some more roller coaster rides. Bike acted up again, but only for 5 minutes or so.
---
Monday
Time to head home. Left at 7:45. For some reason, I decided I wanted to get home as soon as possible. I think in the future I'll give myself more time to arrive, and not plan on spending a lot of time heading back. I don't know why, but I found it hard to linger knowing that home was at the end of the ride.
Took the slab (I-64?) through Kentucky and into Huntington, WVa. Stopped at then-closed Camden Park for a little while. Took the WVa Turnpike down to Beckley. There were two things I wanted to see in WVa, the New River Gorge bridge and the Grist Mill at Babcock State Park. Turns out heading to Beckley was going a bit south for that, so I had to head north on 41 to get to Babcock SP. What a great road! Through mountains, past rivers, 50mph most of the way, a really nice break from the interstate.
Saw the Grist Mill, and then continued on 41 to Summersville. Split off there for 39/55(E). I thought I had died and gone to heaven. I have found my best motorcycling road, and it is 39. It's OK to Richwood, and then becomes the Highland Scenic Highway, with no traffic through beautiful forests (and a Black Bear Preserve). Continued on 39 to Marlinton, and then followed it into Virginia. The section of 39 from Marlinton, WVa to Warm Springs, VA (and beyond some) is the most beautiful road I've been on.
I had read about the area around Warm Springs (Bath County), and the reviews did not do it justice. Motorcycling nirvana. The Virginia section is a Scenic Byway, and follows a creek for a good portion of it. You'll also go through Goshen Gap.
Once I connected with I-81, I took that north to I-64? to US 15/29 to I-264? around Washington, I-95 up through Baltimore and to the Delaware Memorial Bridge, and the NJ Turnpike back up to my house. I didn't expect to do the whole KY->NJ trip in one day, but I managed. My butt didn't forgive me until later the next day. I arrived home at 2:00am, 18 hours and 15 minutes from when I left in the morning.
Miles for Last Day: 848 !!
Total Miles: 1889
---
The Equipment:
1991 Kawasaki Zephyr 750
Left with 13,827 on the clock and returned with 15,816. Even loaded down with luggage, the bike performed admirably. I was concerned about doing the trip without a windscreen, but I loved it. There was an amazing amount of dead matter on my jacket and helmet (and the whole front of the bike), but I love the unobstructed view. The gas problem (if that's what it was) went away. The rear tire and chain (and sprockets) are due for replacement next week.
Hein Gericke FirstGear Scout Jacket
The perfect jacket for me. Warm enough with the liner, and plenty of ventilation without. Cargo capacity second only to the Aerostitch (I hear). It even cleaned up nicely when I got home.
Teknik Deerskin Gloves
Simply, the best gloves I've owned. I used to think my Olympias were supple, but these things are like butter. Nothing inside to wear on your fingers (and after an 850 mile day I'd notice), and look to be very well made and offering as much protection as I could hope for.
Olympia Weather King(?) Winter Gloves
Toasty and dry. That's how my hands stay in these things. I do sacrifice some control dexterity, but I've yet to get cold hands. The leather also seems to recover from a good soaking really well.
Shoei RF-200 (Z-Force Graphics)
Works great.
Eclipse Sport Tank Bag
Not bad. Shifts a little side to side, but nothing to get upset about. Could hold more, but I suspect I would say that about any bag. The 1/2 height map holder is the worst part about the bag - I really wish it was a full-size map holder.
Chase Harper ET-4000 Saddlebags
Terrific. Hold a ton, never slipped down, easy to remove and put on. Outside pockets great for raingear or electric vest. I managed to wear a small hole through the backing, so we'll see if CH's lifetime warranty is for real.
Widder Electric Vest
Best $100 I ever spent, motorcycle- wise. I wouldn't leave for a trip without one ever again. Although I can layer myself up and be warm, it's an entirely more enjoyable sensation to feel heat being poured onto your body from the vest.
Motoport Ciano 2-Piece Rainsuit
Had it about a year now, been through about a dozen rainy days and hasn't leaked a drop. It does need a serious cleaning though.