Part 6 - Kimball, NE to Des Moines, Iowa 618 Miles
Woke up to sunshine and Jason fishing again. While packing up the tent, I noticed an abundance of ants in and around it. Shook them out best I could, then noticed that the ground cloth was on a half-dozen or so anthills! I looked around, and everyplace was anthills - how did I miss all this last night? Couldn't find any hot showers, so I hit the road.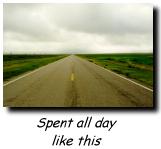 It didn't take long for the rain to start, and it couldn't have been more than 65 degrees or so. For the next hour, I counted 3 cars and 5 freight trains in either direction. The people in cars waved to me, I waved back. Route 30 parallels I- 80 for a long way, only 2 or 3 miles north, but it really gives you a look at Nebraska. Lots of nothing between towns, and not much in most of the towns. You can tell how far away the next town is by the sight of their grain elevator. Also, how big the town is - more height and/or elevators.
Stopped when I saw a K1100LT loaded down with camping gear in front of the L&L Cafe maybe in Chappell, maybe another small town. Figured I'd stop in for breakfast and see where this fellow (I assumed it would be a fellow, while I've seen a bunch of female motorcyclists, I've yet to see one travelling alone) was going or had been. He had DC tags, and a lot of duct tape (fresh-looking) on the right side of the bike.
Turns out he was on a 3 week tour of the country, with Glacier Nat'l Park being a primary destination. He's cutting the trip a few days short because of a fall he'd had a couple days earlier - seems a group of birds alighted in front of him, and he got distracted and hit the shoulder at about 15mph, dumping the bike and grinding up a good portion of his knee. He can hobble around some now, and is only good for about 250 miles before he has to stop for the day because of pain. Ouch.
Breakfast was excellent, one of those cafes you read about in touring stories in the moto rags. Service was extra-friendly, portions were generous and well-prepared, and other customers friendly and talkative. It seems for every one of these I find 3 places like the Main Street Cafe in McArthur, OH, where the food's greasy, the service stinks and the locals are discussing the best way to hunt and kill turkeys. I was glad for the breakfast.
Finally found an open drugstore in Ogallala, and bought 2 packages of EAR plugs (3 per pack, one of the long-distance rider's best friends). I still think about that girl behind the counter in Ogallala, Nebraska. But that's something else.
Got on I-80 at K___ for the run into Lincoln. Earlier in the day, I remembered that Kawasaki has a huge factory somewhere in Nebraska (they've been running ads to that effect lately). I stopped in at a motorcycle dealer (who was open at 8:30 in the morning, suprise, a positive side effect of serving the farming community, I suppose), and asked about the whereabouts of the Kawasaki plant. On I-80 I saw an authentic diner on a trailer being pulled West, 3 Ducatis on a trailer, and a motorhome pulling a full-size camper/trailer.
Soon after joining I-80, I wanted to pass a pick-up truck who was going just about 65. As I pulled along, he motioned out his driver-side window for me to slow down, and pointed 3 fingers at the horizon. I was confused, for a minute, then I thought I figured it out. He got off the road, and I watched the odometer. 1 mile later, another pickup was going to pass me, and I relayed the gesture, this time with 2 fingers. He slowed down next to me. Sure enough, 2 miles down the road was a police car waiting on the embankment to snag somebody. I silently thanked the guy in pickup #1, and I got a thumbs-up from pickup #2.
Found the K plant in Lincoln, but couldn't find a road in. Plus, it was after 5 and I doubt they'd be doing tours after that, so I continued on. The 60 miles or so from Lincoln to Omaha on I-80 is filled with some FAST drivers. Median speed (average speed, not speed of the people on the median) moved up to 80-85, and I sailed into Omaha.
Another friend of the long-distance rider (not that I'm really long-distance, I'm not in the same league as iron-butters et al): Gas stations with attached convenience stores and ATM machines. Pulled into some gas station near Omaha, filled up, got some snacks and a Fruitopia (awful commercials, good drink), and grabbed some cash from the ATM. Terribly convenient. I also made use of the windshield squeegee at these gas stations, doing my faceshield and the bike's headlight. Later in the trip, when it got really buggy out, I would quickly zip in to roadside gas station, squeegee the face shield with the helmet still on my head, and ride back out again. The cagers looked at me very strangely.
Finally hit Iowa. Originally, I thought Kansas was going to be the tough state to get through. That was before I contemplated Nebraska. I laugh at Kansas. Nebraska made Kansas feel like Delaware. I can't imagine what Texas must be like.
A couple of hours later I was in Des Moines, at Adventureland. I pulled into their campground, and noticed a sign that said 'No Motorcycles'. Oh no. I had run into this once before, in Thurmont, MD, and since then I've avoided privately-owned campgrounds. I decided no way was I going to be turned away after 600+ miles of Nebraska and Iowa behind me. I went into the office, helmet in hand, and politely asked it they were going to have a problem with me. As long as I left my bike in the parking lot near the office, they had no problem. Fine with me. They set me up on a hill overlooking that lot, away from all the motorhome sites (fine by me), and I setup my house in no time. Took the long hot shower I had missed that morning, made some phone calls home, and passed out.